Managing marketing – hot potato or high performance? Part 3 (first published in Managing for Success by the Law Society)
14th December 2018
In part three of a five part series written for the Law Society Law Management Section, Sue Bramall advises on how to choose the right marketing team for your firm. This article shows how to choose the right person for the job, taking into account person specifications and skill requirements.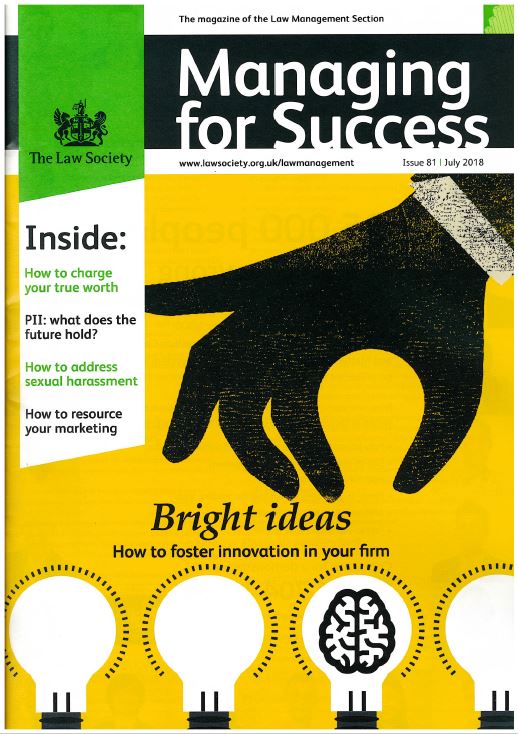 If you missed the earlier parts, you can catch up here:
Future chapters will look at:
managing a marketing team; and
pitfalls and common mistakes with law firm marketing teams.
Recruit or outsource?
Before you start the recruitment process, you might want to test the water by outsourcing some or all of your marketing needs.
Katherine Thomas, a former colleague from Pinsent Masons, now provides outsourced marketing services to law firms in Western Australia. She reminds managing partners that 'It's the age-old adage: rubbish-in, rubbish-out; quality-in, quality-out.'
'When faced with the need for marketing input, many firms start by hiring a junior marketeer on a full-time basis. While this may work for some, other options are available. If you require strategic input, a more senior individual could be an option. Employ them on a part-time basis to retain cost parity with a junior marketeer and still achieve the same, or greater, level of output. Firms will benefit from experience and productivity without incurring a fixed employment cost. Consultants also provide an excellent way of managing marketing without committing to headcount. Be clear in your objectives from the start and you'll achieve much more value from your marketeer.'
Job description(s)
Once you have clarity over the requirements of the role, then you need to translate this into a job description.
'Building a function from scratch offers you a one-off opportunity to design a team structure specifically to suit your requirements,' says Emma Potts of Chancery Legal.
'Having done so you should be prepared to devote time and investment into a recruitment process that will thoroughly investigate a candidate's suitability for any given role in the function. In the early years your marketing team is likely to be fairly compact - you will not have room for any bad apples.'
It is not uncommon for inexperienced firms to appoint someone to a marketing role without any job description or any clear framework, and several months later wonder why nothing much is being achieved.
It is not just the marketing executive who needs to know what his or her responsibilities are – everyone in the firm will benefit from a clear understanding of what this person is employed to do or not do.
Emma emphasises that 'As with any lateral hire, so much depends on the recruiting law firm doing all it can to create the optimum conditions for success. Management buy-in is vital but this also needs to be given in conjunction with clear communication across the firm about the marketing executive's remit and purpose. This should be done in advance of her or his arrival, not on the hoof.'
'It is hard to overstate the importance of getting off to a good start and the first three months of any strategic appointment are a critical time. What happens in these early days has a huge influence on whether the appointment is likely to ultimately be deemed a success or a failure.'
Implications for the wider team
Some fee-earners may think that they no longer need to do any marketing and reduce their involvement, others may see the additional resource as an opportunity to do more.
If fee-earners have responsibilities, such as targets for networking or contributing content to the firm's blog, this should be documented in the marketing plan and personal BD plans.
Either way, this needs to be made clear, and should feed into appraisal and recognition systems if they exist.
Clarify reporting and authorisation
Even in firms with a sole principal, decision making can be delegated to a wide range of fee earners and support staff, and a marketing exec can find requests coming at them from all directions.
Without a written plan, there may be little guidance in terms of priority and everything is urgent, often because it has been left to the last minute.
It is important to clarify any approval hierarchies for expenditure and signing off content and materials.
Enforcement
If your marketing executive is a junior appointment, then they will not have the experience or the gravitas to challenge partners over ill-thought ideas and they may find it had to push activities through to completion or ensure compliance with agreed marketing procedures.
It is important that the marketing partner or committee recognises this and enforces the rules which have been agreed, if required.
To start from the beginning, read part 1 here. If you are a member of The Law Society's Management section, you can also read the full article on their website.
Back to Blog
Share on
Keep up to date
Sign up for all the latest information from Berners Marketing.
Legal blogs we like