Managing marketing – hot potato or high performance? Part 2 (first published in Managing for Success by the Law Society)
21st November 2018
Many small firms struggle to get the resourcing of their marketing right and find themselves with a revolving door of staff which can frustrate their marketing strategy and may be costly in recruitment fees.
In part two of a five part series written for the Law Society Law Management Section, Sue Bramall looks at how you can help your marketing partner or marketing committee stay on track and meet targets by taking the time to prepare a plan, clarifying the needs of your marketing team and the needs of your firm.
Click here if you missed part 1 of this series.
Future chapters will look at:
whether to recruit or outsource a marketing team;
managing a marketing team; and
pitfalls and common mistakes with law firm marketing teams.
Written plan and budgetary framework
Before you consider what support your marketing partner or committee needs, you need to ensure that you have a solid marketing plan. The old adage 'failing to plan, is planning to fail' has become a cliché for a good reason.
Without a plan, your marketing approach is likely to have a scattergun approach, responding to opportunities and ideas (often copied from competitors) rather than determining what needs to be done to achieve your overall business objectives.
Once you know what you need to accomplish, then you can determine who does what and whether you need additional resources or skills.
Clarify your requirements
The terms 'marketing' and 'business development' cover a broad spectrum of activities, from strategic planning to stuffing envelopes, from tender support to Twitter. Some firms want their business development team to get out and spend time with their clients, others require only back-office support for fee-earners. Do you need a technical wizard or someone with great interpersonal skills?
What capacity do you have inhouse? Does that person have the requisite skills, or do they have the capacity to develop them? If so, are you prepared to invest in training, carve out time for them to undertake this role properly and reward them accordingly? Asking a secretary to 'fit in some marketing' is rarely a recipe for success.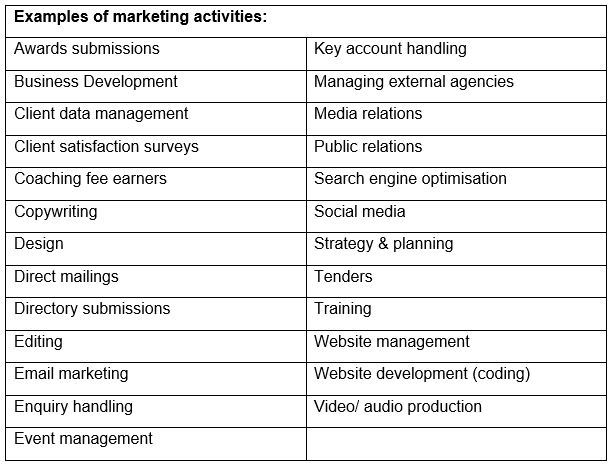 If this is not an option, then you have a choice between outsourcing or recruiting.
Clarify the additional output
If this is your first marketing appointment, then it is likely that a certain number of marketing tasks are being undertaken already by fee-earners and support staff. If so, you should carry out an exercise to identify what these tasks are and who does them now, and whether you wish them to continue.
Do you want the new marketing appointment to mop up all this work and relieve more expensive staff of these tasks? Or, do you want someone because there are lots of new jobs to be done. Either option has its merits, but your evaluation on the return on investment will be different.
Before you start the recruitment process for your next appointment, set aside some time to draft your business case which should cover what you expect this person to achieve, within certain timescales. How will you know if they are delivering results? Do you have the management information systems in place to track and report on performance?
If you want to increase new business for the firm, then you will need to ensure that you track the source of all new enquiries – this should reflect the activities of your marketing executive. For example, if time has been spent optimising the conveyancing section of your website or hosting an event for estate agents – you should expect to see a growth in enquiries from these two sources.
Unfortunately, many firms only track new instructions. The proportion of enquiries which become instructions is not usually influenced by the marketer as it is function of the fee-earner's sales skills and capacity.
Take care to set the right key performance indicators (KPIs). If they achieve the target for growth in Twitter followers, but this does not translate to new enquiries then you may have set the right KPI.
If you are a member of The Law Society's Management section, you can read the full article on their website.
Back to Blog
Share on
Keep up to date
Sign up for all the latest information from Berners Marketing.
Legal blogs we like