Environmental Statement – April 2022
We are committed to minimising the impact the activities of Berners Marketing have on the environment. We are taking steps to increase the company's sustainability and our top priorities are:
understanding and offsetting our carbon footprint;
minimising energy and water consumption;
minimising waste – reduce, reuse, recycle; and
contributing to local environmental initiatives.
Offsetting our carbon footprint with tree planting
Our managing director, Sue Bramall is a mad keen gardener and is fortunate to have four acres of land where she has plenty of space for planting, with a new tree planted for each new client acquired by Berners Marketing.  Trees are planted in February each year, contributing to offsetting the company's carbon footprint.
To be honest, the climate science is very complicated as calculating the carbon output of each tree depends on the type of tree and its age and size, so (although not as scientific as we might like) we just hope every little helps!
By April 2022, Sue had planted 73 trees. This photo shows the beginnings of an orchard: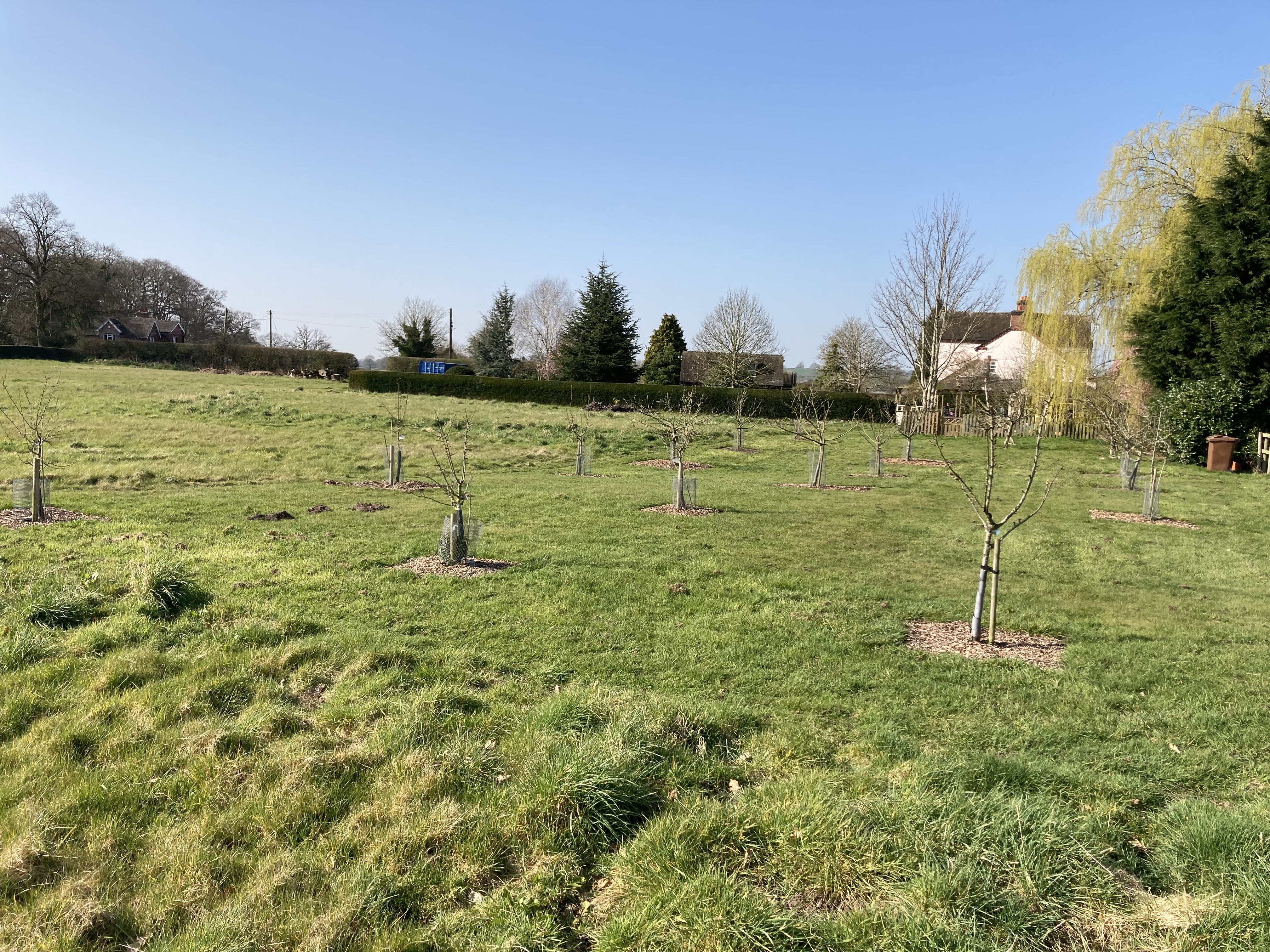 Excess fruit from the orchard is donated to the food bank for refugees at Sanctus St Marks in Stoke-on-Trent.
Minimising waste through recycling
All staff and tenants in the offices are encouraged to recycle by:
All paper is printed on both sides, then shredded, and then used to make compost in Sue's garden (Sue has even had a question about composting on Radio 4's Gardeners' Question Time). Excess is taken to Gentleshaw Wildlife Centre in Eccleshall to be used as animal bedding.
Batteries and soft plastics are recycled at the local Coop.
Printer toners and cartridges are recycled at the local recycling centre.
Designated bins for separating recycling and waste.
Energy and water efficiency
We acquired our current offices in 2018 in a building which is over 200 years old in a conservation area (and was previously rated Grade F on the EPC). We were beneficiaries of a project with the Keele University Smart Energy Network Demonstrator (SEND) whose consultants advised us on all the energy-efficiency measures needed in the refurbishment project which included:
Enhanced insulation
New radiator and Honeywell smart-heating controlled via radiator TRVs
Motion sensor activated LED lighting in communal areas, including the kitchen, bathrooms and hallways.
Water efficient sanitaryware.
Contribution to local environment groups
Eccleshall Flood Action Group
Eccleshall, on the River Sow, is prone to flooding due to a combination of factors. Sue is an active member of the Eccleshall Flood Action Group and has recently been involved in communicating the sewage discharge rates (see left) and she is currently working on a potential project with the Keele University School of Geography, Geology and the Environment to collate evidence for the community group.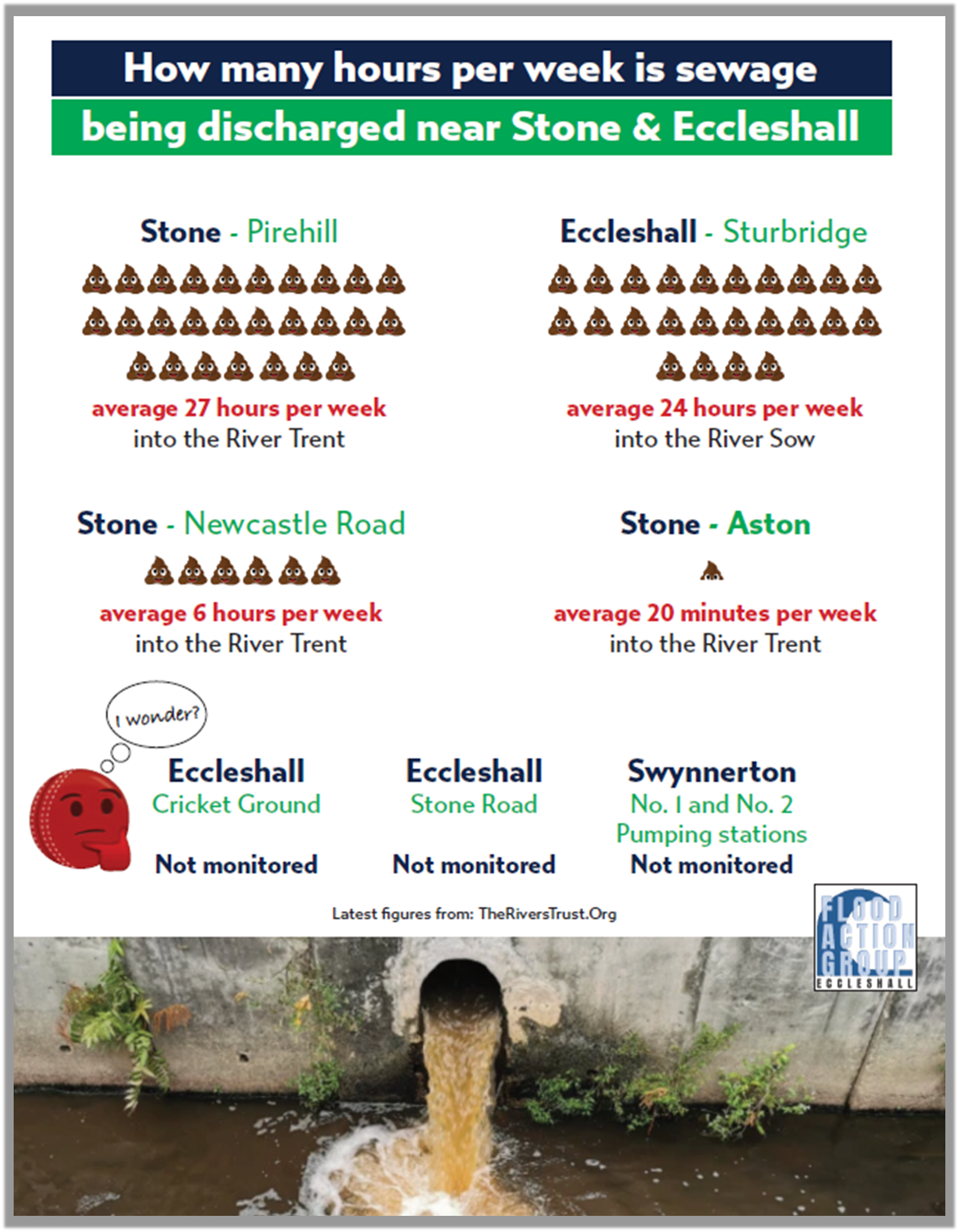 Staffordshire Wildlife Trust and Gentleshaw Wildlife Centre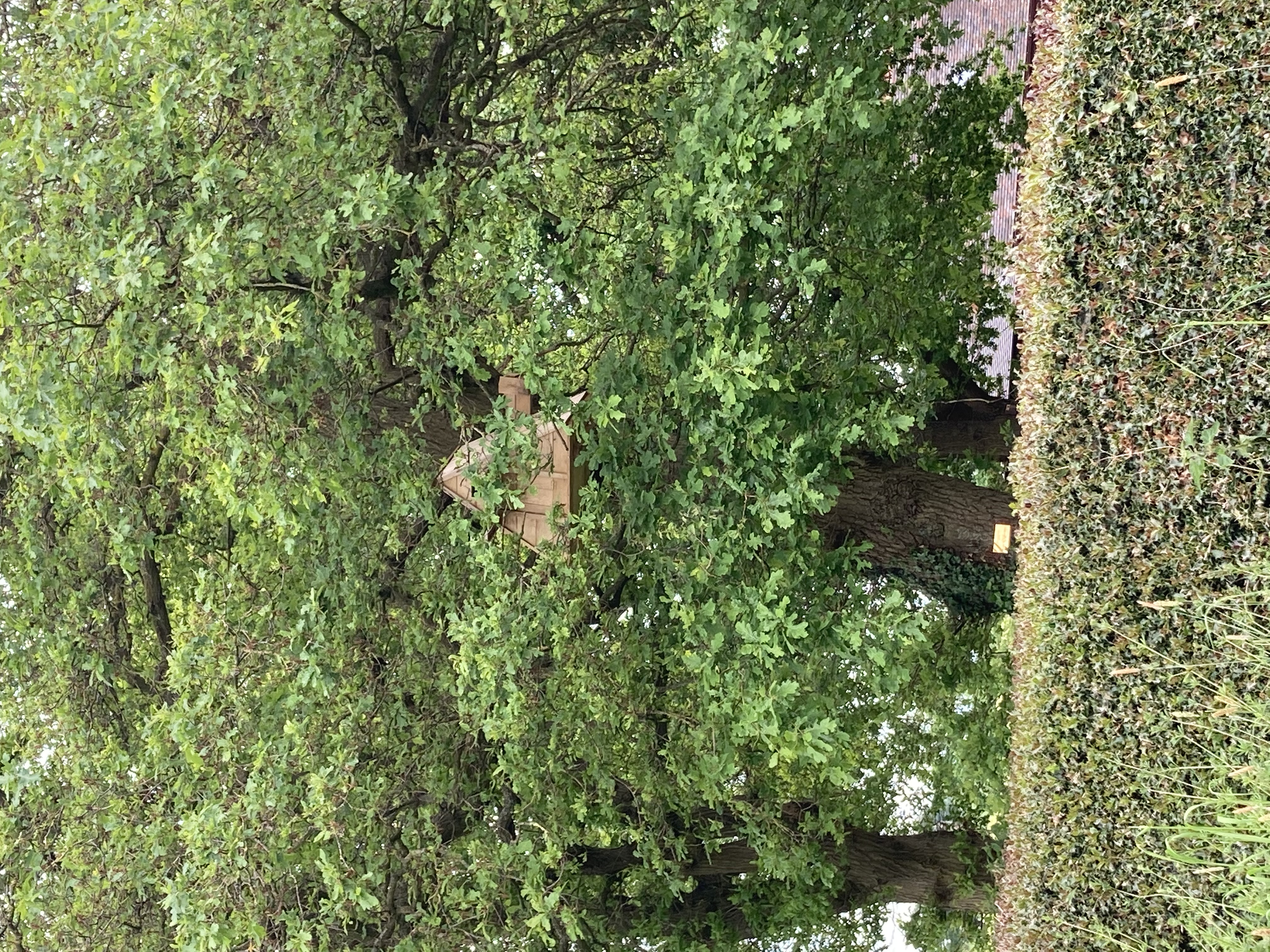 We are members of Staffordshire Wildlife Trust and Sue has been liaising with the trust to find volunteering opportunities for refugees in North Staffordshire.
We have also sponsored owls at the Gentleshaw Wildlife Sanctuary and also provide them with shredded paper for animal bedding.
Finally, we sponsored the construction and erection of an owl house (to RSPB designs) which has been erected in an oak tree in the churchyard of St Chads – it is still empty if you know of any owls looking for a new home!