As Winston Churchill said "We make a living by what we get, but we make a life by what we give."  
As business has been good to us, we believe it is important to give back and support a variety of charities both in the UK and abroad.
Paper recycling
We confess to using a lot of paper, but we make sure that every sheet is used on both sides. Then, once it is shredded the paper is used as bedding by the animals at Gentleshaw Wildlife Centre, like these Lemurs enjoying their lunch in the sunshine.
Toner recycling
We are proud toner donors and recycle our used printer toners to support the local Katherine House Hospice in Eccleshall. 
Pro bono
On a pro bono basis, we manage the website updates for Sanctus St Mark's, a charity which provides a wide range of support for refugees and asylum seekers in Stoke-on-Trent.
Fitness and fundraising
We aim to do a fundraising walk each year and ususally take part in the London Legal Walk, an annual 10km walk around London organised by the London Legal Support Trust. Participants include members of the judiciary, law firms, chambers, government departments, in-house legal teams and law schools, as well as their clients, friends, family and even a few dogs, who all walk to raise funds to support free legal advice charities.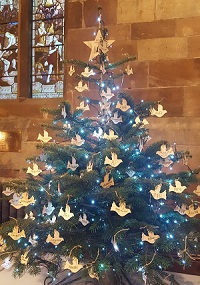 We have also taken part in The MoonWalk, well known for the walkers wearing decorated bras. 
Peace at Christmas
In 2018, we participated in the Eccleshall Christmas Tree Festival with our tree entitled '100 wishes for peace' and decorated it with 100 wooden doves each displaying the word for 'peace' in a different language'.