200+ online lawyer profiles for Knights plc
24th August 2018
As both our business have their roots in Staffordshire, we were aware that Knights 1759 (as they were called in 2017) was growing substantially through a series of mergers and an active recruitment strategy.

We were approached by Knights 1759, who knew of our good reputation in providing expert content for law firms, particularly our panel of qualified lawyers.  In advance of listing on the London Stock Exchange in June 2018, the firm wished to refresh its website. Yvonne Sidwell, Marketing Director, called us to explain their requirement:
'We wanted to enhance the online profiles of our lawyers to accurately reflect the brand and quality of the client service offered at Knights 1759. Client work had to take priority and this, coupled with the challenge of getting all our lawyers to write their own biographies to bring out their best attributes and key examples of recent client work in a consistent style, meant that individual interviews were the only effective way to achieve a quality end result.'
Online profiles for lawyers and other professionals are an important element of any law firm's website content.  They are among the most frequently viewed pages, even when (or especially when) a new business opportunity comes through a personal or professional referral. 
After a competitive pitch, we were engaged to produce new profiles for the senior lawyers to an exacting brief within a very tight timeframe.
'We engaged Berners Marketing to help us and arranged for them to have an in-depth conversation with each partner and associate in order to discuss key niche areas of work and success stories. Around 200 profiles were then drafted to an agreed house style and returned to the marketing team who liaised with our lawyers to finalise and approve.'
Yvonne's team did a fabulous job of managing the logistics and coordinating fee-earners' busy diaries.  The culture and communication at Knights meant that all lawyers knew that it was a priority for the business and delays or calendar changes were to be avoided unless in exceptional circumstances. Meanwhile our team of legal copywriters got to know the experts at Knights plc and summarised their credentials and experience according to a very specific brief with 'no puff and no fluff!'
The project started about a week after we had gone live with the beta version of IDAHO - our workflow software.  This had been specially designed to help us to manage projects with a large volume of expert content, enabling us to track each article from commissioning though to final approval.  This was the perfect opportunity to test it.  With 200 profiles flying between authors, lawyers and the marketing team – it was important to ensure that none went astray, and appropriate approvals were secured before publication.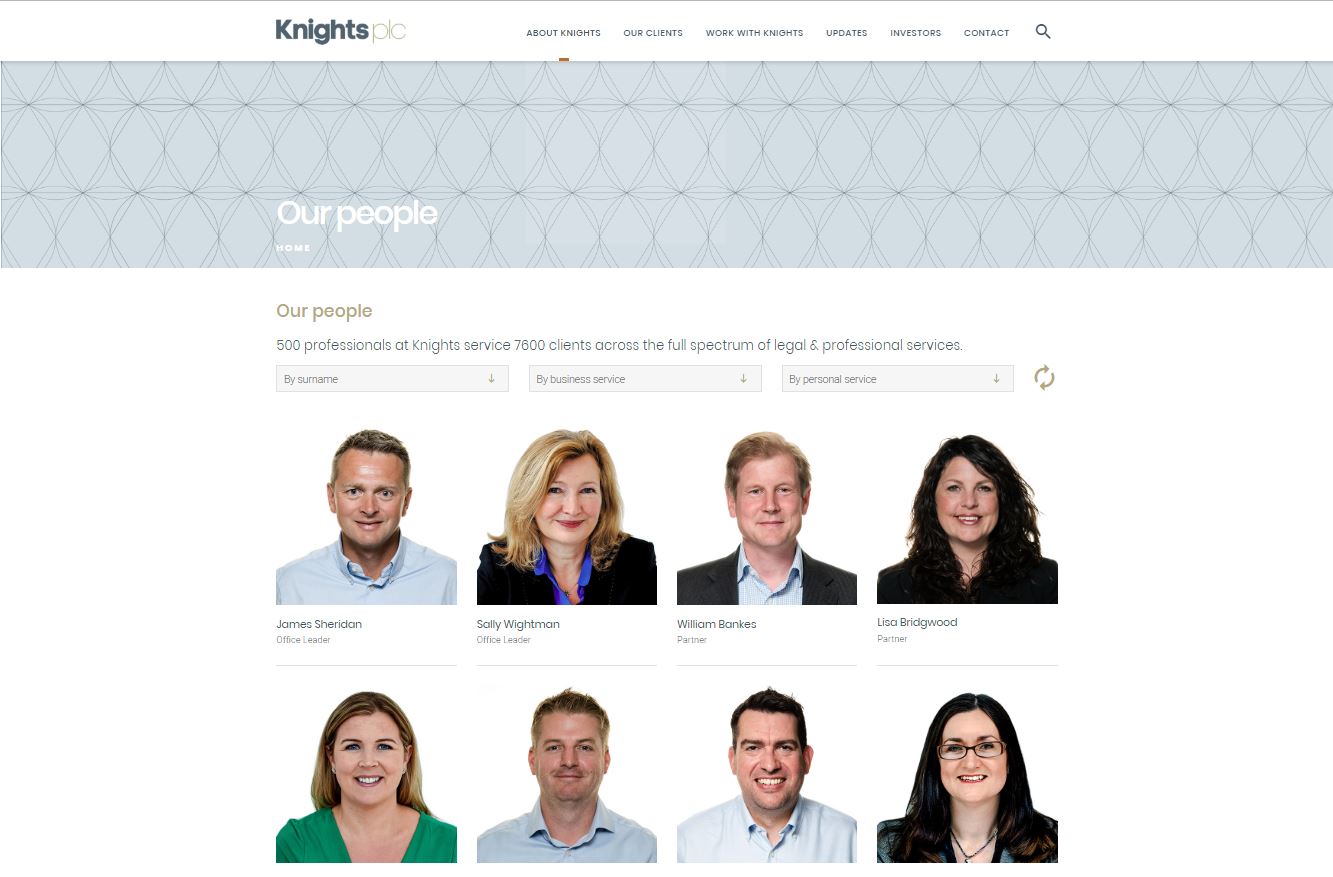 Everything worked swimmingly, and we were delighted that the marketing team at Knights plc felt the same way:
'Working with the team at Berners was extremely straight forward. They helped us to implement an efficient system for writing, approving and finalising a large number of profiles accurately in a very short timeframe.'
Deciding to outsource the project was typical of Knights plc's philosophy of supporting their professionals to focus on their clients and technical expertise, and we were delighted to hear that their objective had been achieved.
'Streamlining this process has helped us to drastically improve our website profiles and the team information that we provide to clients.'
Commenting on the project, Sue Bramall, the founder and director of Berners Marketing said: 'We were delighted to have the opportunity to work with Knights 1959 in the run up to their listing on the London Stock Exchange.  Our philosophy has always been about combining legal and marketing expertise to provide the best content and communications to help law firms achieve their objectives.  This was a great opportunity to help an innovative professional firm with a clear vison.'
For more information on how we work with your legal experts to produce high-quality online lawyer profiles, call us on 01785 859995 or email info@bernersmarketing.com.
Back to Case Studies
Law firm marketing case studies
Law firm marketing case studies