Tech lawyers can learn from Microsoft as it wipes non-inclusive language
21st September 2021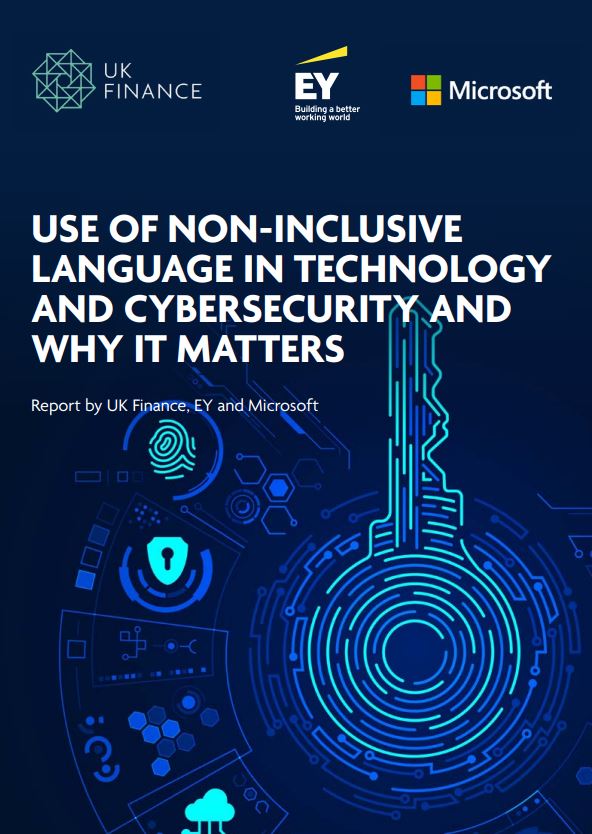 We recently came across a report by UK Finance, EY and Microsoft entitled Use of non-inclusive language in technology and cybersecurity and why it matters which includes a useful appendix of terms which may infer a level of racial bias or discrimination, and some alternatives.
I was struck when reading the Executive summary to read how the authors credit how "Within the financial services industry, banks, insurers, wealth and asset management firms, trade bodies and regulators have made great strides to make diverse and inclusive cultures a reality". 
Where was the mention of law firms?  Was this a deliberate omission? While the focus of the report is on technology and cyber security, law firms are major users of both of these, but they are also integral to the contractual relationships within the supply chain.  Nowadays it would be rare to see a leading law firm that wasn't claiming expertise in the technology sector – so it will be important for lawyers to keep up-to-date with changing norms of language.
The report includes a case study emanating from Microsoft which highlights how the company has been removing the use of the terms 'master' and 'slave' which have been used to describe relationships in coding.  Similarly, they have replaced the use of 'whitelist' with 'allow list' and 'blacklist' with 'blocklist.'
It highlights how language is 'contextual and evolves over time' and 'terms now deemed unacceptable were previously acceptable'.
It also points out that stereotypes may also be portrayed through the use of images – such as the portrayal of a dark figure in a hooded jacket as a cybercriminal.  Try typing 'cybercriminal' into an internet image search to see what they mean!
(As an aside, you may remember when Stephen Fry got involved with the #TimeToChange campaign and successfully eradicated the wholesale use of 'headclutcher' images to illustrate mental health.)
The authors emphasise that 'The focus should be on learning, not shaming, and recognising that everyone can fall prey to demonstrating non-inclusive behaviour' and so there is a need for education and to be offered alternatives.
I particularly liked the 12 -step approach which is proposed, and which could be adapted within legal materials: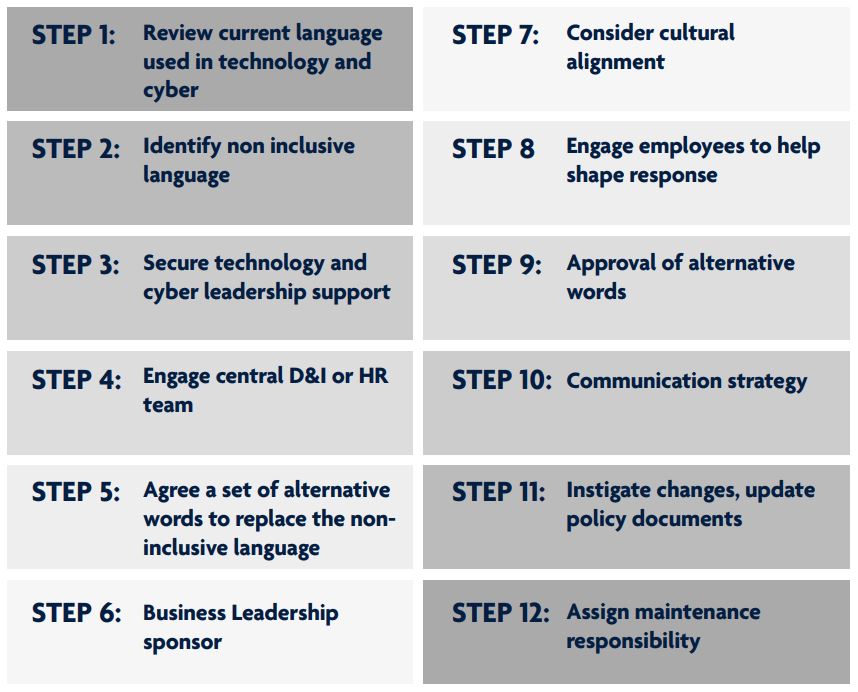 The report will be of interest to any lawyers working in the tech sector and beyond. 
Click here for the full report.
Back to Blog
Share on
Keep up to date
Sign up for all the latest information from Berners Marketing.
Legal blogs we like