Peace on earth at Eccleshall Christmas tree festival
28th November 2018
It is nearly December and the team are getting in the festive spirit! From 29 November to 2 December Berners Marketing are participating in the first Eccleshall Christmas tree festival and wishing peace throughout the world.
We have chosen the theme of 'Peace' and decorated our tree with 100 wooden doves. On each one, the marketing elves have written the word for peace in 100 languages from around the world.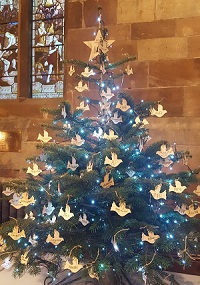 Did you know there are roughly 6,500 spoken languages?
Our Christmas tree will be displayed alongside other trees sponsored by other local businesses and community groups, including:
Bishop Lonsdale CofE Primary School;
Eccleshall Rotary Club;
Eccleshall W.I.;
Spencer the Jeweller;
Perrys and Son; and
Eccleshall Historical Society.
Managing director, Sue Bramall said 'It's been such a lovely event to get involved in. The media seems full of tales of conflict and disharmony, so we wanted to do something that reminded everyone of the spirit of Christmas-time: peace and goodwill to everyone in the local and global community.'
The festival will be launched with a special service of worship at Holy Trinity Church, at 5pm Thursday 29 November. The dressed and lit trees with adorn the knave and be open to the public and community.
Back to Blog
Share on
Keep up to date
Sign up for all the latest information from Berners Marketing.
Legal blogs we like