NHS 'inclusive language' content style guide useful for law firm marketing
12th May 2022
Personal injury lawyers often have to write about people with health conditions which have been caused by accidents or medical negligence. It can be easy to focus on accuracy in regard to the law and the health condition, while losing the focus on the human being at the heart of the story. For example, describing people as 'parties' or 'claimant' and 'defendant.' Similarly, private client solicitors often write for 'older people' but what do we mean? Older than me?
It was interesting to see that the NHS has produced a content style guide for inclusive language, designed to encourage consideration and respect whilst ensuring accuracy and consistency. Indeed, many of the examples used in the guide simply encourage us to think before we write, replacing cliches ('confined to a wheelchair') with simpler, factual language ('wheelchair user').
Throughout the guide – which covers age; disabilities and conditions; ethnicity, religion and nationality; mental health; and sex, gender and sexuality – there are reminders to be specific wherever possible ('over-65s, over-75s, over-85s') and to leave out descriptors altogether if they are not relevant.
Although there are plenty of specific examples – some of which are listed in the table below – the document generally promotes positive, person-centred language, rather than prescribing 'dos and don'ts'. In many cases, an unnecessary phrase can be removed altogether, and no alternative is needed.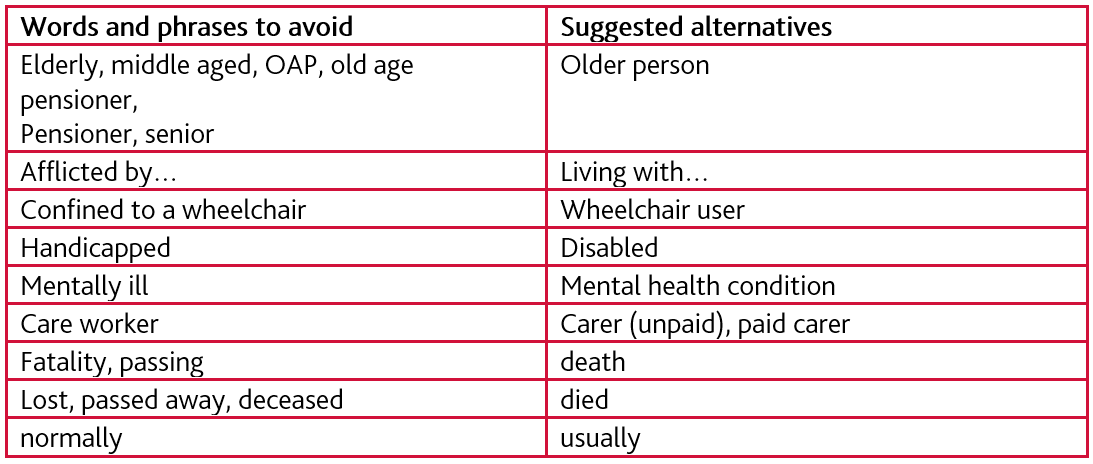 Language can develop and change quickly, so it is interesting to see that the guide's creators – the Service Manual team at NHS Digital – have made it very clear it is a living document, with calls for feedback throughout. The guide includes explanations about the decisions made to use certain phrases or words, and there is an option to join the conversation online and communicate directly with the Service Manual team, especially if you can contribute research findings.
Above all, the NHS inclusive language guide encourages writers to do their own research, offering links to further reading and suggesting writers take their cue from the people they are writing for and about. 'There is no one right answer,' it reminds us. And, importantly, 'the best thing is to test your content and services with the people who use them.'
Click here to access the NHS Content Style Guide: Inclusive Language.
Back to Blog
Share on
Keep up to date
Sign up for all the latest information from Berners Marketing.
Legal blogs we like