Veterans, traditionalists and baby boomers – take care marketing to older clients (first published in PS magazine by The Law Soc
23rd January 2019
Given that none of us feel old, should we segment our target market by age?  And if so, is it necessary to adapt our marketing for older clients?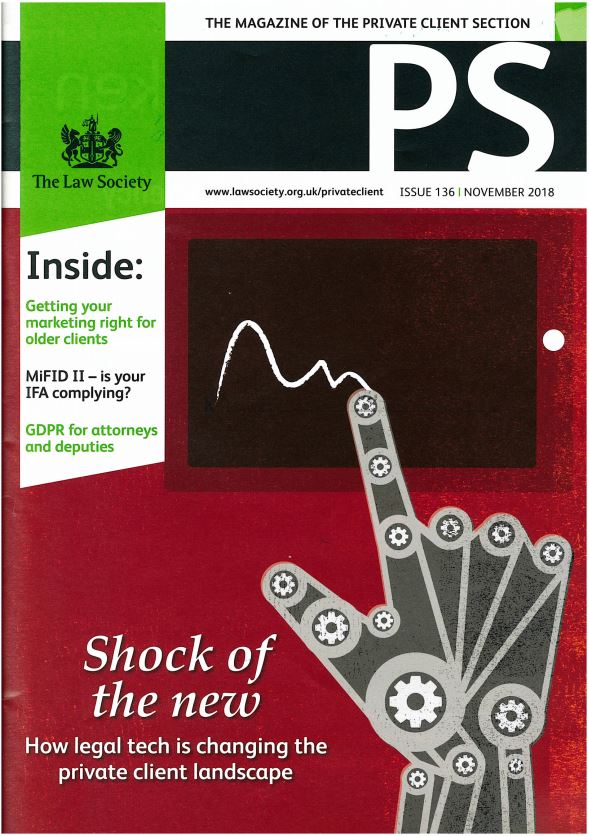 There are currently over 15.3 million people aged 60 or over in the UK, but that does not mean you should adopt a clichéd and outdated marketing methods when promoting your legal services to private clients.
Sue Bramall gives some insightful advice on how to get your marketing right for older clients. In this article she discusses:
understanding your target audience;
adapting your marketing strategy for older generations;
considering the accessibility of your offices;
common clichés to avoid in marketing; and
key messages to convey through your brand and marketing materials.
When I hit the grand old age of forty, I set up my own business. I felt I had reached a certain point of maturity and experience to take that step, but I didn't feel old – until a mailshot for a certain brand of thermal underwear arrived. I had dropped into the target market for a hitherto well-regarded 'senior' brand but, rather than generating custom, this company lost my respect as it did not understand me. I was a dynamic entrepreneur who happily hikes 15 miles in a day, not someone worrying about my chilblains.
Size of the market
The charity Age UK tracks the latest research on the aging population in their report Later Life in the United Kingdom – all statistics in this article come from their April 2018 report.
There are currently over 15.3 million people aged 60 or over and that is expected to increase to 20 million by 2030 – an increase of about a third, and clearly an opportunity for private client solicitors.
Life expectancy has been increasing and there are now 14,500 people aged over 100 and more than 500,000 over 90.
The challenges of aging
The Age UK survey explores many of the hardships and prejudices encountered. For example, 60 per cent of older people said they experienced age discrimination daily. Over 50 per cent of adults agreed that, once you reach a very old age, people tend to treat you as a child. Insurers, employers, politicians and public services are no longer viewed as allies of older people – a solicitor may be one of their few remaining trusted advisors.
Poor health means that a large proportion of your potential clients may find it difficult to engage with you. Over 800,000 people over 65 live with dementia and many elderly people suffer from depression. Around two million people over 65 suffer sight loss – how small is your small print?
Just as the dentist and optician remind us to attend regular check-ups, solicitors need to remind older clients to regularly review their legal affairs to check all is still in order.
How accessible is your office?
Around 20 per cent of men and 30 per cent of women over 65 need help with at least one activity of daily living. Mobility is a problem for 40 per cent of adults over 70, and 59 per cent of people over 80 have a disability. Have you tried visiting your office(s) in a wheelchair? Is there sufficient space between bays in the car park? Is there space in reception for the wheelchair alongside a chair? Have you tested the washroom facilities? Does your website provide a clear explanation regarding accessibility and any limitations?
Six generations of clients
When considering the market for any product or service, it is important to understand the different generations. At the moment we tend recognise six generations with spending power, as illustrated in the following table: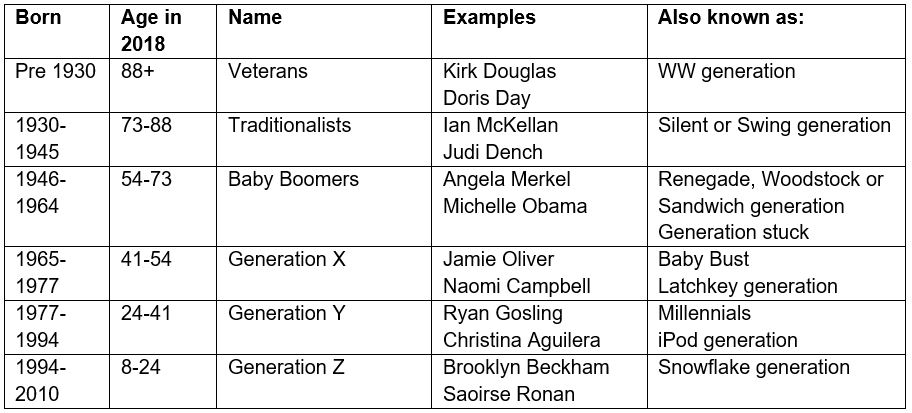 This is not a precise science and you should not treat all members of each group as if they are alike. The Baby Boomers are a particularly broad group comprising both fit and active fifty-year-olds who are still working through to the retirees in their mid-seventies with declining health. Don't assume that all grandparents are elderly - there are 1.5 million grandparents in the UK under fifty.
Members of each group will have varying circumstances, lifestyles, interests, consumer behaviour and disposable income, but extensive research has identified some traits which tend to be common to each group and help to differentiate the type of approach that is required when marketing. Here is a very brief summary for our three target groups:
Veterans

 

are concerned about health, ageing, financial and personal security, and their legacy. They still read newspapers and they read them thoroughly. Although they need large type, they don't want to be reminded of their age in a way that makes them feel ancient. But who does? They may use the internet but to a limited degree and may rely on someone else to undertake online transactions on their behalf.
Traditionalists

 

– Value saving, morals, ethics, trustworthiness, patriotism, social tranquillity and togetherness. Many have very good health and are active, travelling and enjoying life. They often have wealth in the form of property and savings but can be slow to embrace change. While most are comfortable with the internet where it is useful for them, such as booking travel, it is not integral to their social lives and they enjoy events.
Baby Boomers

 

– Many are defined by their careers and plan an active retirement to maintain physical and mental health. They often like the good things in life, such as fine food, travel etc, but may feel concerned about future financial insecurity over pensions and care costs. They are good at online research and look for choice, value, options and flexibility. Challenges include acting as the bank of mum and dad, caring for their parents, or inability to downsize as the next generation has not flown the nest.
Digital use
Of the 11.8 million people over 65, around 3.8 million have never used the internet. Of the eight million who have used the internet, nearly 60 per cent of those aged over 75 have not gone online in the last three months. A quarter of non-users over 65 get someone else to do their transactions – a potential risk which clients and advisors should be aware of.
Only 29 per cent of those over 65 use the internet for transactions, compared to 50 per cent of all internet users. Those who do not use it give reasons such as no need, lack of skills, cost, concerns about security.
While no law firm can afford to neglect digital marketing, it may not be ideal for every client.
Do you know your clients?
In an ideal world (where your law firm has a state-of-the-art contact management system, information on each client's date of birth and their communications preferences) you could produce subtly nuanced campaigns which appeal to each group appropriately.
Back in the real world, many firms take a one-size-fits-all approach to their marketing. Prior to GDPR there was certainly a move away from hard copy newsletters and invitations towards electronic versions which were also seen as less costly – even when open rates showed that a large proportion of recipients did not open the e-newsletters.
Thankfully, GDPR has caused firms to review this approach and ask their clients whether they would like to stay in touch, and how they would like to receive information. This gives clients the choice of an emailer or a hard copy newsletter.
Older people really do "think before you print", with one person describing the cost of toners as "scandalous". Another client commented that she "didn't think she should have to spend her money on her printer ink to find out what her solicitor had to say", while another replied that his printer had not worked for a long time.
There are other advantages of the hard copy newsletter in that it has a much longer life than an email, and the recipient is more likely to keep it. It may be passed onto a friend or relative, and with permission it may be left in public places – such as doctors' waiting rooms, citizens advice bureaux, other professionals' offices.
Key messages
When thinking about your marketing materials, as well as reviewing the font size – consider what you say and how you say it:
Are you sending impenetrable legalese, or something that is in plain English? Are you appealing to a Baby Boomer's preference for options?
If you do have a brochure for private clients, does it build trust and inspire confidence? Do you have a strategy to ensure that it gets beyond your reception area? Are you sending it to every client of your firm?
Do you have a list of intermediaries that you pop in on from time to time, who might be interested in your brochure, your newsletter, or working together?
Do you volunteer to speak at events? There are numerous voluntary groups that support older people, those with dementia or ill health and their carers, and which may welcome a speaker. Remember that other solicitors may have the same idea, so you need to consider how to make your speech more appealing, or how to make your firm more appealing as a supporter.
If you think you need to work on your public speaking skills, then look out for a local branch of Toastmasters. This is a very cost-effective way of improving your skills and building your network.
Older people in the workplace
There are now five generations active in the workplace, so do not assume that all your potential clients are at home watching daytime television. Could you offer enlightened companies a legal drop-in as a workplace benefit?
A list of age-friendly employers can be found at www.renegadegeneration.com. They also run workshops, such as their one on 'How to become a model' - mature models are in high demand along with film extras!
Avoid clichés
This brings me neatly to the issue of photography in marketing material. There is a certain stock photograph of a kindly grandfather that must have appeared in thousands of legal brochures – I am sure you have seen it too. Look beyond the obvious clichés of an older man with a younger wife for an article about making a will, or a headclutcher for an article on dementia.
Avoid using words like: senior citizen; retiree; golden years; silver-splitter, silver-surfer, silver-fox etc; mature; prime of life. Take care, in your images and language, not to stereotype older people as helpless or dependent.
This summer, I was walking in the Austrian Alps at about 2,500m altitude and met a couple in their late seventies on the same circuit. It was heartening to think that I might be doing the same in 25 years – even though, since turning fifty, I have started to receive offers for more overtly 'senior' products, such as cruises or retirement accommodation.
Thankfully, I have yet to receive anything related to incontinence – but surely this must be only a matter of time!
Back to Blog
Share on
Keep up to date
Sign up for all the latest information from Berners Marketing.
Legal blogs we like