Keele University helps Berners to explore market potential for IDAHO®
9th May 2018
Keele University student Carlota Olavo has been seconded to Berners Marketing under Keele University's Research and Innovation Support Programme (KRISP).
KRISP is a business growth programme supported by the European Regional Development Fund and Santander Bank. Carlota, who is from Lisbon in Portugal, and in the final year of studying a BA in Business Management, will spend a month with the team at Berners Marketing between her exams and graduation.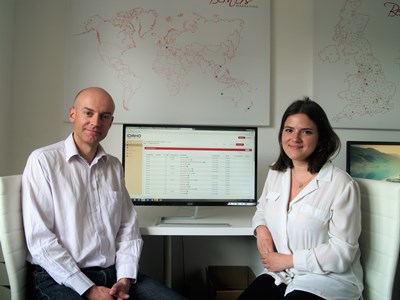 Specifically, Carlota will be helping to carry out research to evaluate the market potential for IDAHO® the workflow software which we implemented in 2017.
Carlota is pictured here in a demonstration with Matt Hegarty, of Bellaport Systems, who was responsible for coding IDAHO®.
The focus of Carlota's research is to find out whether other marketing and communications professionals have similar problems in managing and tracking content to those which we were experiencing before we had IDAHO®.
She will be responsible for developing an online questionnaire and fine-tuning the sample for the survey.
"We are delighted that Keele University has been so keen to support us," comments managing director Sue Bramall.  "Having Carlota on board will bring a fresh pair of eyes to the project and provide some dedicated resource to complete the market research exercise."
Back to Blog
Share on
Keep up to date
Sign up for all the latest information from Berners Marketing.
Legal blogs we like