Dip into VISTA: the Autumn 2021 Collection from the Law Consultancy Network
30th November 2021
The latest edition of VISTA is available to read online, carefully curated by experts in the legal sector.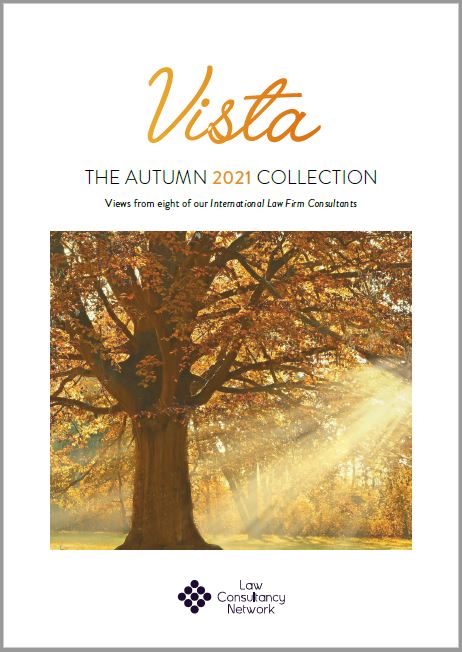 VISTA is a collection of views from members of the global network of law firm consultants in the Law Consultancy Network. Together they have been analysing the longer-term effects of the pandemic on law firms across the world, studying the gains that some firms have made, sharing lessons to be learnt and advising how to carry best practices forward.
This edition includes articles on:
 diversity and inclusion in your law firm's brand, by Sue Bramall, Berners Marketing;
law firm leadership to pursue a sustainable agenda, by Simon Tupman
law firm management gains, by Andrew Otterburn, Otterburn Legal Consulting;
building 'the perfect legal business', by Simon McCrum, McCrum Consulting;
differentiating your law firm within the marketing, by Maria Jesus Gonzalez-Espejo, Instituto de Innovación Legal;
how the pandemic has changed knowledge management in law firms, by Helene Russell, The Knowledge Business;
legal pricing in a brave new world, by Nigel Haddon, Haddon Consulting; and
flexible resourcing, by Katherine Thomas, Free Range Lawyers.
Dip into the collection by clicking here or download the full pdf to read later at your leisure.
Click here for more information about the Law Consultancy Network.
Back to Blog
Share on
Keep up to date
Sign up for all the latest information from Berners Marketing.
Legal blogs we like