20 ways to maximise the benefit from legal marketing blogs – free download
13th August 2023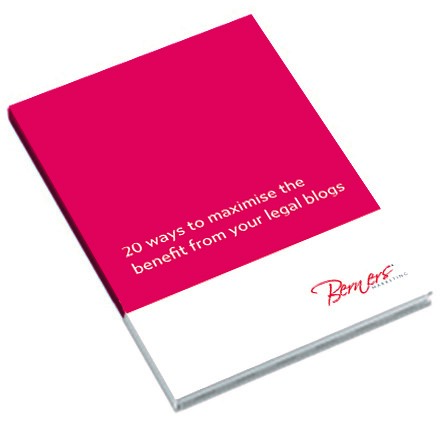 The legal marketing team at Berners Marketing has created a handy list of 20 tips and recommendations to help you get the most out of your legal content.
Most lawyers now recognise the importance of keeping their website up to date with well-written articles. This may be to perform well in internet search results, appeal to potential clients, impress referrers or recruits, and even deter fraudsters who may be looking for a firm which is 'behind the curve'.
When you have invested in quality content, it is just as important that you fully maximise the potential exposure in your offline and online marketing communications. This includes:
preparing an article for uploading to your firm's website;
formatting and making it easy to read;
choosing images and adding alt-tags;
making hyperlinks count;
sharing articles on social media;
encouraging the team to share on LinkedIn;
reusing content in e-newsletters; and
sharing more widely in the local community.
Click here to download our '20 ways to maximise the benefit from your legal blogs'.
If you have any other tips or suggestions, then we would love to hear them! Send us an email at info@bernersmarketing.com or use our online enquiry form to get in touch.
Back to Blog
Share on
Keep up to date
Sign up for all the latest information from Berners Marketing.
Legal blogs we like